So I spent this morning raking out beds, uncovering little shoots of spring. My crocus are blooming, and the tulips and daffys are over 1/2 up. It won't be long until they bloom, too. So with all of this spring springing up around me, my thoughts have turned to garden crafts and yard art. First up: we need a birdbath!
I found a super simple version on FamilyCrafts.com:
Patricia's Pots also has a how-to, with a slightly different design: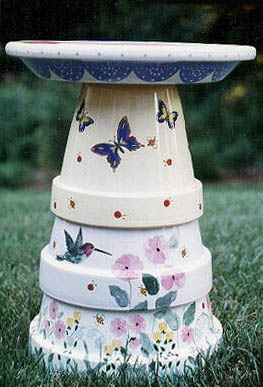 She recommends using liquid nails to hold the whole thing together, and to make sure to seal your pots & saucers before you do your decorative painting. She also uses an oil-based varnish for the insides. Who knew?
Now, if you're an advanced crafter (ie, SooperCrafty) then you can try the ramped-up version using mosaics. I found some nice step-by-steps at Michaels.com. I'm new to mosaics, so I might wait a spell for this one. But look at the sample- really nice!
Here's a simple mosaic version. You only have to mosaic the inside, and you use a tomato cage for the base. (Ah, recycling!) However, I wonder how the mosaic will stand up to being underwater all summer. (?) I really like the idea that you can then plant little seedlings at the base, and have some viney flowers adorning your birdbath too! Maybe morning glories?
Finally, I found some instructions on making a cement birdbath on HGTV. This would take a little work and preparation, but really it would be fun embedding rocks, shells, china bits and like in the rim. There are good step-by-step directions with pictures. Yea! This version calls for 2 different sized bowls to act as the molds, but I read somewhere else you could also use the lid of an outdoor garbage can and a bucket to create the well. (And, they also recommended lining the concrete with some metal mesh for added support. Just a thought.)
Well, I think Casa CTD is going to try a simple version with terra cotta pots, and get the kiddos to do the base painting. I have this nice spot in the middle of the yard where the cherry tree used to be, and I need to hide the stump!
Ahhh, Spring! (PS: this would be a nice Earth Day activity, too!)