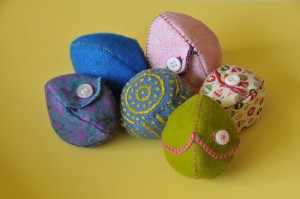 (Photo from One Inch World)
First off, I LOVE Twitter. I'm getting crafy info from all over the place, and this tasty morsel was shared first by WhipUp…. and now I'm passing the goodness onto you.
These cute-and-clever fabric eggs are the brainchild of One Inch World which has some great felt-crafting ideas. To get the specifics, surf on over.
She supplies the pattern pieces, which you cut out of felt and whip-stitch together. There is one tricky bit adding the button, but it's all simple hand-sewing. For you adventurous machine-sewers, she also includes a version for the machine and using stiff interfacing.
Any way you do it, this is a really cute idea…. and who wouldn't love a little spring giftie tucked inside one of these cute eggs? Puts plastic to shame!! And since they are reusable, you can create a whole dozen family heirlooms.
Craftastic!