This is a Sponsored post written by me on behalf of FrogTape Brand Painter's Tape for SocialSpark. All opinions are 100% mine.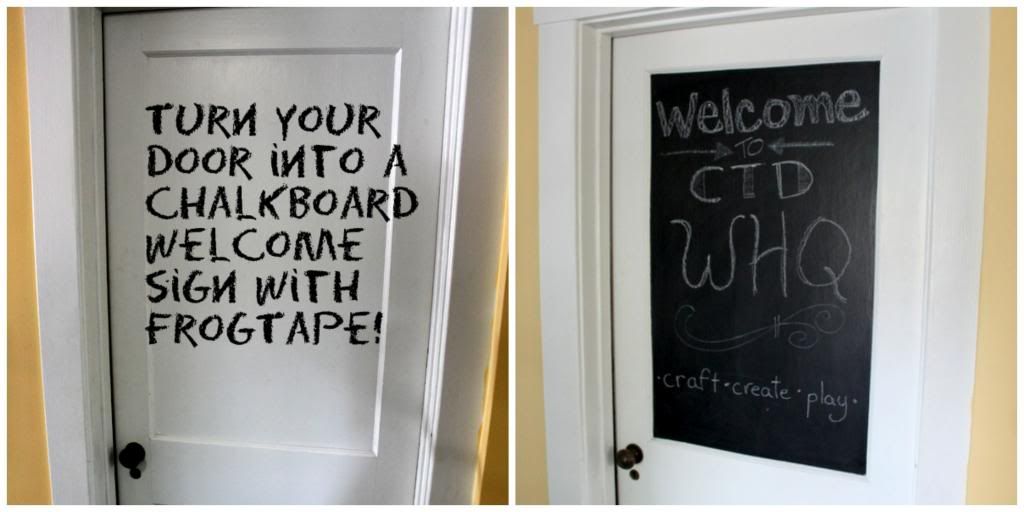 I've been doing a little bit of rearranging, reoganizing and revamping our third floor- which is where my studio and an extra guest bedroom are located. Usually the door to the studio stands open- but I thought it would be super-cute to add chalkboard signs ON the doors so welcome folks to the studio or guest room… depending on the nature of the visit!
But there is a teensy problem. The doors are old and grainy and textured. But luckily there is FrogTape® to the rescue! I decided that FrogTape® Textured Surface might do the trick.
Let me show you how I did it step by step!
Step 1: I wiped down the door to make sure the surface was clean. You can see the grain of the wood and the molding which makes it tricky.
Step 2: I stared to apply the FrogTape® Texture Tape all the way around the door, inside the molding.
Step 3: Next you wipe down the tape with a damp cloth. The dampness activates the magic in the tape…er, the PaintBlock® Technology, which forms a microbarrier! (Ok, I still think it's magic.)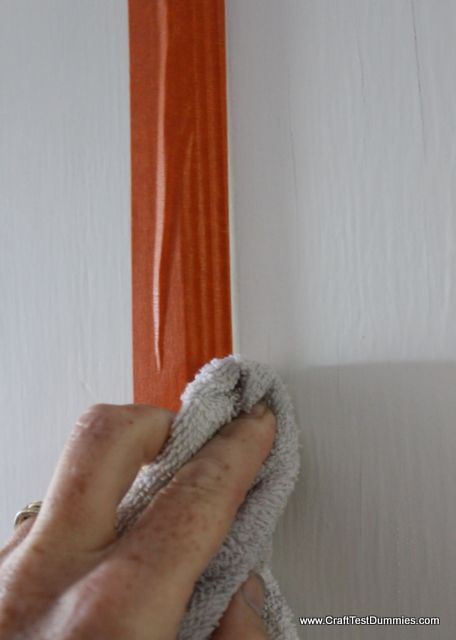 Step 4: Next, you apply the Liquid PaintBlock® Edge Sealer- a convenient brush applicator tip makes it super-easy to do. This ensures a tight seal! (PS- you can use this product on all kinds of textured surfaces, like stucco surfaces. It's pretty amazing.)
Not a great pic…it's hard to do one-handed!
Step 5– after the Liquid PaintBlock® Edge Sealer has dried….PAINT! I used a specific chalkboard paint for this project. And I found brushing it on worked the best.
I removed the FrogTape® when the paint was still wet per the instructions on the package.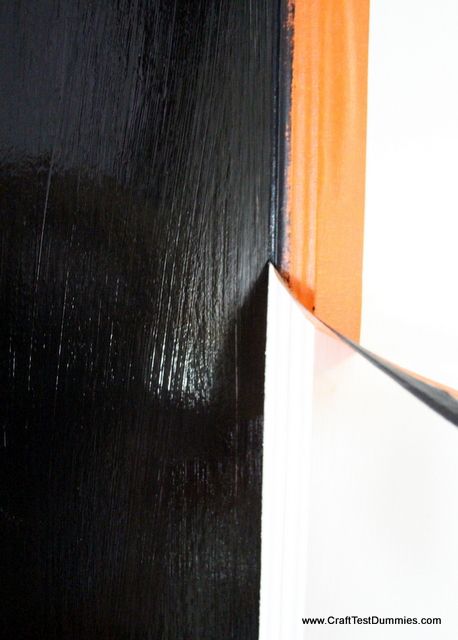 Step 6: Wait 24 hours for the paint to fully cure (seriously the hardest part of the whole process) and then condiditon the surface with chalk….and then….. HAVE FUN!
I'm really happy with the way it turned out…and I SUPER love those nice crisp lines agains the white door. No leaks under the tape!
If you'd like to learn more about FrogTape® and the get inspired, make sure you follow @FrogTape on Twitter. And make sure to check out FrogTape how-to for more projects and great ideas!
Now my last decision…. should I repeat the chalk on the bottom pane of the door, too? What would you do? Leave me a comment- I love to hear your ideas, too!