This is a Sponsored post written by me on behalf of Leviton for SocialSpark. All opinions are 100% mine.
Remember how proud I was of my photo-studio update? That I had finally painted the area and cleaned out the clutter?? Well….now it's time to come clean.
The rest, friends, ain't so pretty. Here's how the hallway leading to the studio looks: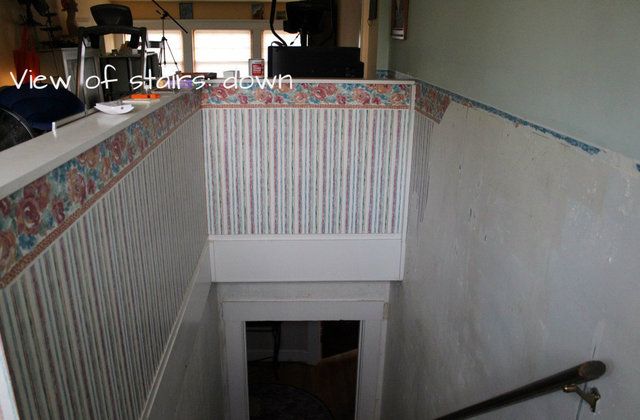 I've stripped almost all of the hideous paper off…almost… but the walls need to be primed and painted, and some wallpaper hung. And I need to replace the wallplates that I lost (yes, lost) when I painted.
Can I stop for a moment and chat a bit about switchplates? Just a teeeny little commercial here in the middle!)


I recently found out about Renu by Leviton.
The Renu® collection includes:
switches
-Combination switches
–wall plates
–dimmers/Remotes
-Tamper Resistant Outlets
-Tamper Resistant GFCI Outlets
-QuickPort Connectors
All of which have faces you can update yourself whenever you're ready for a new look. Available in 20 popular paint colors, Renu® products can blend in or contrast with a room's walls or trim. Renu® turns the electrical device into a decorative, easy to change accessory.
And honestly, they'd really brighten up this sad/scary outlet & switch!
So anyway, I figured that if I shared this with you it would motivate me to get this project DONE and my switchplates ON!
Oh…and one last thing. The nice folks at Leviton would LOVE it if you "liked" theirLeviton on Facebook, and took a look at their collection. And I thank THEM for sponsoring content at CraftTestDummies!  Also,if you are on twitter, there are some tweetchats
Thursday, April 26th 9pm EST
Wednesday, May 2nd 9pm EST
All you need to do is follow @Leviton and #Renu for the twitter events and participate and they can possibly win some Home Depot gift cards!