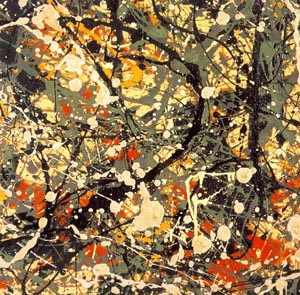 Today is Jackson Pollack's birthday…. why not celebrate it by making a Pollack-inspired piece of artwork? I found this nifty place where you can make your own Pollack-esque digital art. Just drag around your mouse and virtual "paint" drips and runs where ever you move your mouse. To change colors, simply right-click your mouse. Fun!
Or, if you have some extra paint on hand, try it out yourself. Jackson liked to use house paint. (I have enough leftover house paint to make enough splatter art to fill the Louvre).
Or here's an idea….if you have left over fingernail polish in colors you'll never wear again, use those. Then let it dry, cut into long strips, mat on a piece of solid color cardstock, and give out some wicked-cool bookmarks!
Whether or not you think Pollack's artwork is genius or the work of an angry drunkard, he gives us something to talk about.